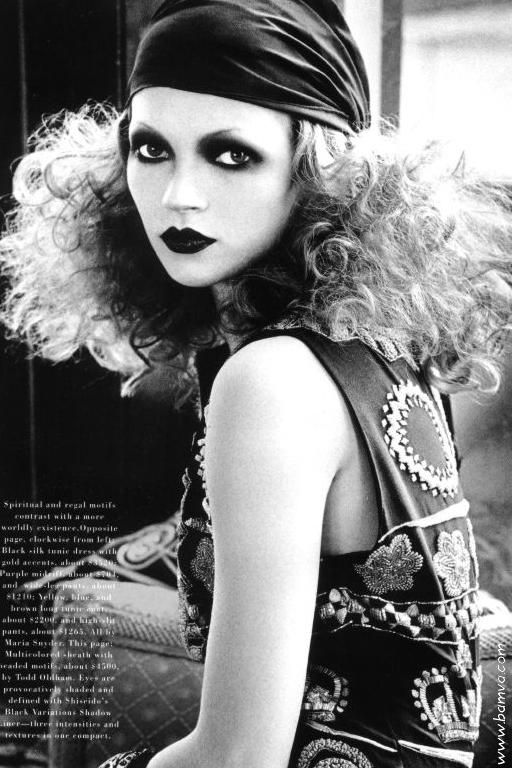 Kate Moss talks about how she schedules her new life as a businesswoman and what she uses to keep pretty while flying:
Kate Moss has a daughter, Lila, 7, and lives between homes in London and the Cotswolds. She is currently appearing in cosmetics ads for Rimmel, as well as campaigns with Longchamp and Bulgari. She has her own clothing range in collaboration with Topshop, and a fragrance collection with Coty
What have you learnt about yourself since becoming a businesswoman?
It's much more inspiring to get up in the mornings and not have to go and sit in a chair and have your make-up done, but to get up and go, "I want to make this dress, I want to make this perfume." I've got ideas. I like modelling, I still love creating images, but I think after doing it for as long as I have, it can get a little samey. So it gave me another bit of zest for life. People had been talking about it for a while — "You should do a collection, you should do your own clothes" — and it just naturally progressed. It wasn't a big game plan.
Was any of your career planned? Did you want to be a model?
No. I would never have thought about it, ever. I remember meeting this girl in Florida, maybe the year before I started, and she was the daughter of a friend of my dad. She was, like, "I wanna be a model." I thought it was so vain, really embarrassing.
What has been your biggest challenge?
Being there for Lila and being able to work and be a stable parent. And with the paparazzi, keeping it as normal as I can. I surround myself with old friends, and I know who I am. I keep things relaxed and not high-maintenance.
How do you juggle everything: modelling, fragrance, fashion?
Day by day. I live in the moment. Obviously, my diary's scheduled, but I don't really think about what I've got to do in two weeks because I might freak out, so I just take it a day at a time. I say what I'm going to do and when I'm going to do it. I'll know a few days in advance, but I don't look too far into the future. I will go into ostrich mode if I have too much on my plate: I won't be able to think properly about anything.
Where do you get your inspiration from?
Just the furniture I like, the bottles I like, the glasses I like. In my house, I have old champagne glasses from 1830, and decanters from the 1920s — they inspired the bottle for my new fragrance, Vintage.
Are you a big collector of things?
Read more
here
.
Article via Times Online
Image via herfamedgoodlooks